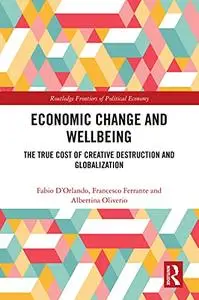 Economic Change and Wellbeing; The True Cost of Creative Destruction and Globalization
by Fabio D'Orlando
English | 2021 | ISBN: 0367862980 | 145 pages | True PDF | 9.33 MB
Technological progress and globalization have generated indisputable benefits, but also relevant costs, such as growing economic inequality, economic fluctuations, and financial instability. Mainstream economics has usually considered these costs as temporary, evenly distributed, and more than compensated by the gains of the phases of economic expansion. In this book, which focuses mainly (though not only) on the labor market, the authors contend that the major costs of the intensified process of creative destruction, through which economic change proceeded, have been ignored and the benefits overrated, thus incorrectly estimating the net impact of economic growth on subjective wellbeing. The book argues that the positive consequences of economic change and globalization may not compensate for the negatives, because psychological losses are felt more strongly than gains (due to loss aversion) and the costs are unequally distributed (those on low incomes disproportionately suffer more). The result is an overall reduction in wellbeing and therefore appropriate policies are necessary to allow more people to enjoy the benefits of technological progress without suffering the costs. The authors develop a comprehensive framework in which the socio-psychological context and educational level of a community determine the most suitable policies both for the short and for the long run. The book makes an invaluable contribution to the literature on economic growth and development, labor economics, the economics of wellbeing, and applications of behavioral economics.
The readers that may be interested in this book are economists and other social scientists, but also general readers, since the analysis is maintained simple and accessible. University teachers can use the book for courses on economic growth and development, on labor economics, on the economics of human capital, on the economics of wellbeing, and on applications of behavioral economics.