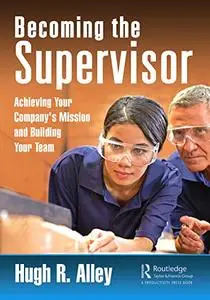 Becoming the Supervisor: Achieving Your Company's Mission and Building Your Team by Hugh R. Alley
2020 | ISBN: 0367893266, 0367862190 | English | 196 pages | PDF | 6 MB
Becoming a Supervisor tells the story of Trevor who works as one of the production team in a small company that makes toy boats. He is thrust into the role of supervisor unexpectedly when his general manager reacts to his constant suggestions of how things could be better. When the GM becomes ill, Trevor struggles to take up the slack for several months until a new GM arrives. The core of the book follows Trevor's growth under the coaching of Julie, his new GM. As Trevor deals with one challenge after another, Julie guides him on a journey to learn the core skills needed by all front-line leaders.
The reader takes away four key ideas: (1) Front-line leadership skills are not too complicated to learn. (2) These skills are something that they can develop in themselves, regardless of what their organization does. (3) Tools and skills are there to help solve real business problems; implementing the tools is not a strategy. (4) In your role as supervisor (directing or responsible for others) you have to look after the mission of the company AND look after your people – doing only one is not an option.
Essentially, this book is intended to give hope to a new supervisor or team lead. They will finish the book knowing that the skills they need can be learned and aren't that difficult to acquire. It is designed to introduce the central skills that any supervisor has to be able to master at least with a basic working competency: instructing, leading, and making improvements in their own area. It introduces some of the more widely used tools that a new supervisor may need. More importantly, it ties these tools and skills to solving particular problems. Readers will understand that the tools are not important for their own sake, but only to the extent that the tools serve the larger objective of the organization.
This book is designed to give the reader an entertaining and hopeful story about the very difficult transition from worker to supervisor, from being one of the crew to directing the crew. It is an emotionally tough transition, and the idea that someone could see a model of how it can work out will be helpful to folks new in a leadership role. Finally, the book provides a reference to other sources of information that will let the reader extend their learning about each of the tools or skills referenced in the contents.