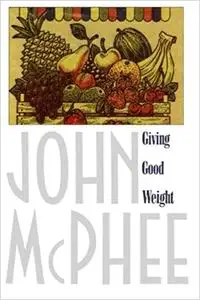 John McPhee, "Giving Good Weight"
English | 1994 | ISBN: 0374516006 | 280 pages | EPUB | 0.25 MB
"You people come into the market―the Greenmarket, in the open air under the down pouring sun―and you slit the tomatoes with your fingernails. With your thumbs, you excavate the cheese. You choose your stringbeans one at a time. You pulp the nectarines and rape the sweet corn. You are something wonderful, you are―people of the city―and we, who are almost without exception strangers here, are as absorbed with you as you seem to be with the numbers on our hanging scales." So opens the title piece in this collection of John McPhee's classic essays, grouped here with four others, including "Brigade de Cuisine," a profile of an artistic and extraordinary chef; "The Keel of Lake Dickey," in which a journey down the whitewater of a wild river ends in the shadow of a huge projected dam; a report on plans for the construction of nuclear power plants that would float in the ocean; and a pinball shoot-out between two prizewinning journalists.