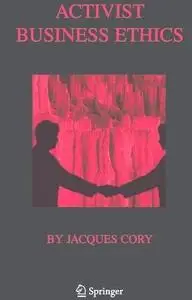 Activist Business Ethics by Jacques Cory
Publisher: Springer; 1 edition (September 29, 2004) | ISBN-10: 0387228489 | PDF | 1,8 Mb | 200 pages
This book asks the question, how could we convince or compel modern business to apply ethical standards and is it essential to the success of economy? In order to answer the question, this book examines the evolution of the activist business ethics in business, in democracies, Christianity, Judaism, Islam, Buddhism, in philosophy, psychology and psychoanalysis. The book examines international aspects, the personification of stakeholders, the predominance of values and ethics for CEOs and the inefficient safeguards of the stakeholders interests.