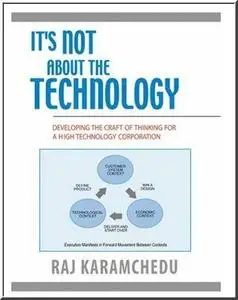 It's Not About the Technology by Raj Karamchedu, Varada Raj Karamchedu, R. Karamchedu
Publisher: Springer; 1 edition (August 11, 2006) | ISBN-10: 0387233504 | PDF | 1,9 Mb | 230 pages
It's Not About the Technology is about a phenomenon most dreaded by high-technology industry executives: a failure at the execution leading to a missed market window. High-tech executives agree that a critical factor that drives the company to such a failure is the breakdown of interaction between marketing and engineering. This book is predicated on the notion that the success of execution lies neither in the technology nor in the market strategy. On the contrary, it is shaped by the context of an individual, whether an engineer or a marketer. From this viewpoint, successful execution in a high-tech company is manifest in a confluence of 3 contexts: the technological, the customer and the economic contexts. This book tackles the big questions of how to develop the basic craft of the thinking required in high-tech companies. Drawing from basic economic principles and practical experience in the semiconductor business, it breaks new ground in our understanding of the complexities of high-tech execution.
Download from Ftp2Share