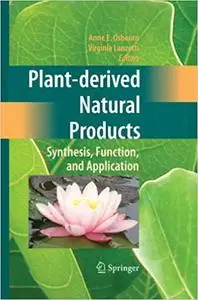 Anne E. Osbourn, Virginia Lanzotti, "Plant-derived Natural Products: Synthesis, Function, and Application"
English | 2009 | pages: 584 | ISBN: 0387854975 | PDF | 8,8 mb
Plants produce a huge array of natural products (secondary metabolites). These compounds have important ecological functions, providing protection against attack by herbivores and microbes and serving as attractants for pollinators and seed-dispersing agents. They may also contribute to competition and invasiveness by suppressing the growth of neighboring plant species (a phenomenon known as allelopathy). Humans exploit natural products as sources of drugs, flavoring agents, fragrances and for a wide range of other applications. Rapid progress has been made in recent years in understanding natural product synthesis, regulation and function and the evolution of metabolic diversity. It is timely to bring this information together with contemporary advances in chemistry, plant biology, ecology, agronomy and human health to provide a comprehensive guide to plant-derived natural products.
Plant-derived natural products: synthesis, function and application provides an informative and accessible overview of the different facets of the field, ranging from an introduction to the different classes of natural products through developments in natural product chemistry and biology to ecological interactions and the significance of plant-derived natural products for humans. In the final section of the book a series of chapters on new trends covers metabolic engineering, genome-wide approaches, the metabolic consequences of genetic modification, developments in traditional medicines and nutraceuticals, natural products as leads for drug discovery and novel non-food crops.
My Link