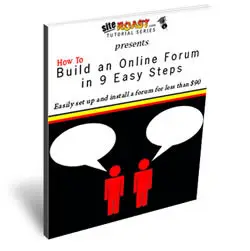 RJ Licata,"How to Build an Online Forum in 9 Easy Steps"
Publisher: SiteRoast.com | ISBN: 0412745183 | edition 2009 | PDF | 51 pages | 1.4 mb
Build an Online Forum in 9 Easy Steps", is a complete walk-through on how to successfully install and promote an internet forum. Using a forum he made for his friends and him to stay in touch as an example, author RJ Licata takes you through the process in an easy to understand, step-by-step system. If you have a similar desire to hang out with your college buddies, or talk gossip with the ladies, but don't seem to have the time anymore, this ebook is for you. In this ebook you'll learn how to:
Choose and register a domain name for your forum
Create a hosting account to store your site on the web
Install the free forum software on your hosting account
Setup and modify the forum to meet your needs
Use your forum to earn you money
And more!