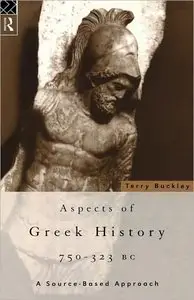 Terry Buckley "Aspects Of Greek History 750-323 BC: A Source-Based Approach"
Routledge | 1996-06-18 | ISBN: 0415099579 | 560 pages | PDF | 2,3 MB
Aspects of Greek History, 750 - 323 BC is an up-to-date textbook on ancient Greek history that, topic- by-topic, uses a wealth of original sources to interpret this history for those with little prior knowledge of the subject. Chapter by chapter, the relevant historical periods from the age of colonisation to Alexander the Great are reconstructed. The book covers the main literary sources: Aristotle, Diodorus, Herodotus, Plutarch, Thucydides, and Xenophon; Greek political and military history from the beginnings to Alexander's Battle of Gaugamela. It includes maps, a glosary of Greek terms, and a full bibliography. Overall, this is an indispensable collection of material for the student of classics as well as the general reader, who requires a grounding in Greek history.
Download FREE:
No Mirror(s) Please!