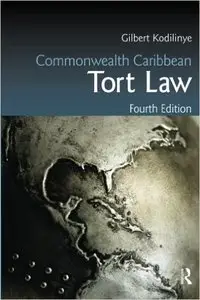 Commonwealth Caribbean Tort Law, 4 edition by Gilbert Kodilinye
English | 2009 | ISBN: 0415545781, 0415492777 | 472 pages | PDF | 1,8 MB
Tort law is a subject of primary importance in the study and practice of the common law in Caribbean jurisdictions. This work is now well established as the leading text on tort law in the region, and the fourth edition incorporates developments in law and legal thinking, including recent case law concerning negligence, defamation and vicarious liability. The chapters on employer's liability and damages have been extensively revised in order to highlight recent trends, while throughout the book extracts of key cases have been more thoroughly integrated into the text in order to help students grasp the salient points.
Although conceived primarily as a text for the LLB degree courses in Caribbean universities, Commonwealth Caribbean Tort Law is also essential reading for students preparing for the CAPE Law examinations and the various paralegal courses in the region. Legal practitioners will find the book useful as a work of ready reference, and it will also be of interest to those business executives, industrialists, insurance agents and journalists who require some knowledge of this most important area of the law.
Gilbert Kodilinye is Professor of Property Law at the University of the West Indies.
My nickname -
interes