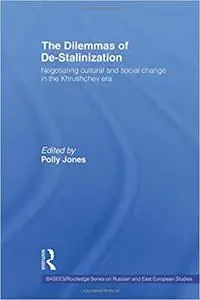 Polly Jones, "The Dilemmas of De-Stalinization: Negotiating Cultural and Social Change in the Khrushchev Era "
English | ISBN: 0415545889 | 2006 | 296 pages | PDF | 2 MB
The Khrushchev era is increasingly seen as a period in its own right, and not just as 'post-Stalinism' or a forerunner of subsequent 'thaws' and 'reform from within'. This book provides a comprehensive history of reform in the period, focusing especially on social and cultural developments. Since the opening of the former Soviet archives, much new information has become available casting light on how far official policies correlated with popular views. Overall the book appraises how far 'Destalinization' went; and whether developments in the period represented a real desire for reform, or rather an attempt to fortify the Soviet system, but on different lines.