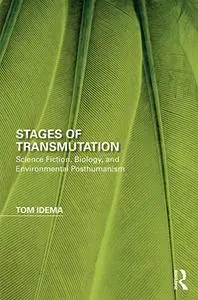 Stages of Transmutation: Science Fiction, Biology, and Environmental Posthumanism (Perspectives on the Non-Human in Literature and Culture) by Tom Idema
2018 | ISBN: 0415788226 | English | 186 pages | EPUB | 0.8 MB
Stages of Transmutation: Science Fiction, Biology, and Environmental Posthumanism develops the theoretical perspective of environmental posthumanism through analyses of acclaimed science fiction novels by Greg Bear, Octavia Butler, Kim Stanley Robinson, and Jeff VanderMeer, in which the human species suddenly transforms in response to new or changing environments. Narrating dramatic ecological events of human-to-nonhuman encounter, invasion, and transmutation, these novels allow the reader to understand the planet as an unstable stage for evolution and the human body as a home for bacteria and viruses. Idema argues that by drawing tension from biological theories of interaction and emergence (e.g. symbiogenesis, epigenetics), these works unsettle conventional relations among characters, technologies, story-worlds, and emplotment, refiguring the psychosocial work of the novel as always already biophysical. Problematizing a desire to compartmentalize and control life as the property of human subjects, these novels imagine life as an environmentally mediated, staged event that enlists human and nonhuman actors. Idema demonstrates how literary narratives of transmutation render biological lessons of environmental instability and ecological interdependence both meaningful and urgent―a vital task in a time of mass extinction, hyperpollution, and climate change. This volume is an important intervention for scholars of the environmental humanities, posthumanism, literature and science, and science and technology studies.