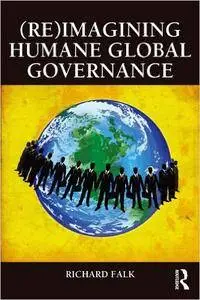 Richard Falk, "(Re)Imagining Humane Global Governance"
English | 2013 | ISBN: 0415815568 | PDF | pages: 209 | 1.5 mb
In this important and path-breaking book, esteemed scholar and public intellectual Richard Falk explores how we can re-imagine the system of global governance to make it more ethical and humane.
Divided into three parts, this book firstly scrutinizes the main aspects of Global Governance including, Geopolitics, The Future of International law, Climate Change and Nuclear weapons, 9/11, Global Democracy and the UN. In the last part, Falk moves the discussion on to the search for Progressive Politics, the Israel/Palestinian conflict and the World Order Models Project.
Drawing on, but also rethinking the normative tradition in international relations, he examines the urgent challenges that we must face to counter imperialism, injustice, global poverty, militarism and environmental disaster. In so doing, he outlines the radical reforms that are needed on an institutional level and within global civil society if we are to realize the dream of a world that is more just, equitable and peaceful.
This important work will be of interest to all students and scholars of global politics and international relations.