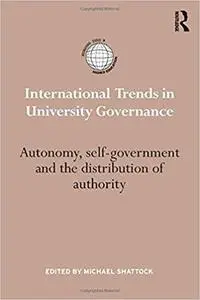 Michael Shattock, "International Trends in University Governance: Autonomy, self-government and the distribution of authority "
English | ISBN: 0415842905 | 2014 | 226 pages | PDF | 1510 KB
Governance is becoming increasingly important in universities just as it is in the wider world of commerce and banking. Historically, universities were run by their academic communities but as mass higher education has taken root, as university research has become a critical element in national economies and as the demand for more accountability both financial and in academic performance has grown, pressure has mounted for a 'modernisation' of governance structures.
One aspect of 'modernisation', particularly important in many European systems, and in Japan, has been the decision by governments to give institutions greater autonomy, more control over their budgets and legal responsibility for the employment of their staff. International trends to introduce greater competition between institutions, to encourage greater institutional differentiation and give greater play to market forces has led to an emphasis on leadership, a more systematic involvement of external stakeholders and a more 'corporate style of governance. At the same time this has often led to a sense of loss of collegiality, a redistribution of authority and a growing gap between the 'centre' and the 'periphery' within universities.
Read more