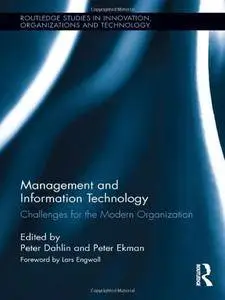 Management and Information Technology: Challenges for the Modern Organization (Routledge Studies in Innovation, Organizations and Technology) by Peter Ekman
English | 2011 | ISBN: 0415888166 | 236 Pages | PDF | 1.53 MB
Information technology has come to play an important role in organizations over the last few decades. Though it began as an entity dealt with by specialists, IT has evolved to become an everyday tool with both operational and strategic impacts. Most modern organizations have adopted different forms of IT, and become dependent on their computer-based information systems and their peripherals for everyday operations. Information technology offers opportunities to increase efficiency, customer value, and competitiveness.
Given the financial investment in IT required by organizations to remain competitive, IT has become a resource that needs to be managed. Management and Information Technology evaluates organizations' utilization of IT including knowledge management and e-learning, accounting, and business relationships. Presenting theories to help the reader understand the varying roles IT can occupy in different organizations, this volume illustrates the ways in which IT has become a key strategic tool.