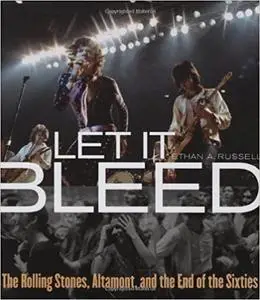 Ethan A. Russell, "Let It Bleed: The Rolling Stones, Altamont, and the End of the Sixties"
English | ISBN: 044653904X | 2009 | 256 pages | EPUB, MOBI | 23 MB + 28 MB
LET IT BLEED takes you where no Rolling Stones book has before. Author and photographer Ethan Russell was one of only sixteen people–including the Rolling Stones–who made up the 1969 tour. He was with them in their hotel rooms, at rehearsals, and on stage. He tells the story of this monumental and historic tour firsthand, including recollections from band members, crew, security, and other sixties icons–like Abbie Hoffman and Little Richard–they met along the way. And he also includes amazing photos of the performers who toured with the Stones that year: the legendary Tina Turner and B. B. King.
Through vivid quotes taken from his interviews with the band and crew, and through more than 220 revealing photographs, Russell takes you behind the scenes for an uncensored look inside the Rolling Stones' world at the end of the sixties. It was an idealistic time, with an overarching belief that music could bring us all together. But the events that led to the terrible violence and stabbing death at Altamont would change rock and roll forever.