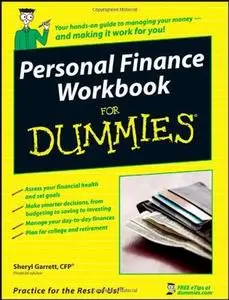 Sheryl Garrett, "Personal Finance Workbook for Dummies"
English | 2007 | ISBN: 047009933X | 287 pages | True PDF | 5.7 MB
Do the terms personal finance or money management drudge up feelings of inadequacy, confusion, discomfort or fear in you? Personal Finance Workbook For Dummies helps you calm your negative feelings and get your financial house in order at the same time. And, you'll be amazed how easy it is to get on the road to financial fitness. From spending and saving to investing wisely, this hands-on workbook walks you through a private financial counseling session and shows you how to assess your situation and manage your money. You'll learn how to use credit wisely, plan for large expenses, determine your insurance needs, and make smarter financial decisions. Plus, the featured worksheets and checklists help you manage your day-to-day spending and plan for a robust financial future. Discover how to:
Take stock of your financial history and determine your net worth Build a personal financial plan that meets your saving and investing goals Develop good spending habits and get out of debt–without budgeting Explore your dreams, grow your wealth, and protect your assets Get the most out of your money Minimize your taxes Plan for big-ticket purchases Pay for your kids' college tuition Ensure a comfortable retirement Leave a substantial estate for your heirs The easy-to-follow exercises in Personal Finance Workbook for Dummies take the drudgery and pain out of managing your money. Order this time- and money-saving guide now; it'll brighten your financial future and your mood.