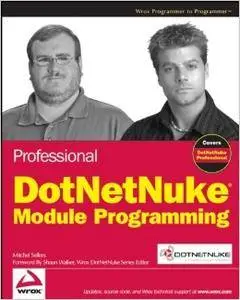 Mitchel Sellers, Shaun Walker, "Professional DotNetNuke Module Programming"
2009 | pages: 340 | ISBN: 0470171162 | PDF | 8,1 mb
Professional DotNetNuke Module Programming details the development techniques needed to work within the DotNetNuke framework. Emphasis is placed on the available methods to extend the framework, as well as the situations and rules governing when each respective extension model should be used. Along with this emphasis on selecting the right extension method, the book stresses leveraging the framework in as many areas as possible, and ultimately using the framework to the advantage of the developer.
The reader should have a working knowledge of standard ASP.NET development techniques and terminologies. Samples in the book are provided in both C# and Visual Basic (VB). Users do not need to have a comprehensive understanding of DotNetNuke prior to using this book and careful consideration has been taken to ensure that DotNetNuke-specific terminology is explained as the book progresses.
This book primarily covers development techniques within the DotNetNuke 5.x platform and identifies and documents some excellent new features that are supported starting with DotNetNuke 5.0. The inclusion of jQuery exposes developers to a great JavaScript library that will enable interactive and animated interfaces to be created easily. Similarities and differences between the 4.x and 5.x platforms are covered, enabling readers to apply some newer concepts to the older technology. Also covered in this book are recommended practices for successful integration with the framework.
Examples are based on a guestbook module that demonstrates how individual portions interact with one another. The discussion lays the foundation for the most basic elements of development within DotNetNuke. Readers learn about the more advanced module programming concepts, such as optional interfaces and DotNetNuke user controls. This discussion also introduces other extension methods, such as authentication providers and skin objects.
My Link