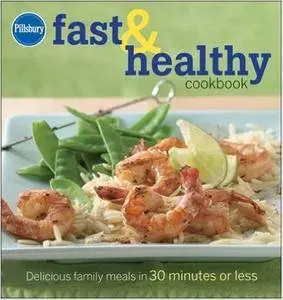 Pillsbury Editors, "Pillsbury Fast & Healthy Cookbook: Delicious family meals in 30 minutes or less"
ISBN: 0470287446 | 2009 | EPUB | 224 pages | 10 MB
140 fast, tasty ways to feed your family right!
Serving healthy, satisfying meals can be a challenge—especially when there's so little time to cook. Let Pillsbury come to the rescue! The flavorful recipes inside are higher in fiber and other nutrients than most recipes, yet lower in fat and calories. They're also fast—all can be prepared in 30 minutes or less, with a whole chapter of recipes ready in just 20 minutes.
So take your pick—whether you want a satisfying casserole, a quick snack, burgers hot off the grill or a luscious dessert, you're sure to find a dish that meets your needs. Complete with 50 beautiful color photographs and lots of healthy living tips, Pillsbury Fast & Healthy Cookbook is just what you need to serve your family delicious, nutritious meals—without spending hours in the kitchen.
Fix quick and healthy dishes like these!
Crispy Shrimp Tarts
Barbecued Pork Fajitas
Lemon-Basil Skillet Chicken with Rice
Rush-Hour Chili
Vermicelli with Fresh Herb-Tomato Sauce
Spicy Chinese Chicken Tacos
Foot-Long Pizza
Layered Piña Colada Chicken Salad
Grilled Blue Cheese Steak
Halibut with Chipotle Butter
Orzo-Barley Pilaf
Lemon Mini Tarts
Chocolate Espresso Mousse