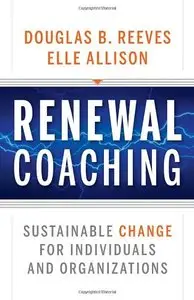 Douglas B. Reeves and Elle Allison, "Renewal Coaching: Sustainable Change for Individuals and Organizations"
Jo sey-B ss | 2009 | ISBN: 0470414960 | 336 pages | PDF | 9,3 MB
Renewal Coaching
It is a well-accepted fact that failure to engage in sustainable change can be deadly for both individuals and organizations.?But why then is change so hard? The enormous wealth of change literature currently available is largely focused on satisfaction, efficiency, and effectiveness.?While these are worthy goals, they remain insufficient. In order to help individuals, teams, and complex organizations create and sustain change some-thing different is needed. Renewal Coaching offers a research-based, sustainable approach to individual and organizational improvement that involves a disciplined and collaborative sequence of information, experimentation, feedback, and support.
Renewal Coaching provides a series of personal assessments that will guide individuals and teams through the seven stages of renewal.?Each assessment includes both survey and narrative responses, and readers can use the journal pages in the text or convenient on-line formats to respond.?The Renewal Coaching framework consists of these seven elements: Recognition—Finding patterns of toxicity and renewal; Reality—Confronting change killers in work and life; Reciprocity—Coaching in harmony; Resilience—Coaching through pain; Relationship—Nurturing the personal elements of coaching; Resonance—Coaching with emotional intelligence; Renewal—Creating energy, meaning, and freedom to sustain the Journey.
If you are already a coach, or a leader who uses a coaching perspective, then this frame-work will help sustain the impact of your efforts. If you are a member of an organization that is enduring "initiative fatigue," then this frame-work will help focus your energy.?And if you are a person who has started change efforts, but has not been able to continue them over the long term, then this frame-work will help you gain the insight, endurance, and moral purpose to continue your individual journey.
Download