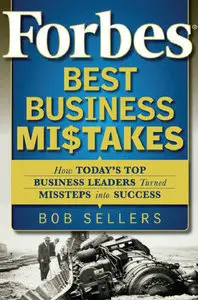 Forbes Best Business Mistakes: How Today's Top Business Leaders Turned Missteps into Success by Bob Sellers
English | 2010-07-13 | ISBN: 0470598778 | 224 pages | PDF | 3 MB
Today's top business leaders reveal how to make even the biggest mistakes work for you Forbes Best Business Mistakes reveals practical lessons from some of today's most successful business leaders to show you how to turn a bad business situation into a success.
Based on exclusive sit-down interviews with some of today's most successful men and women, author Bob Sellers shares their stories to provide valuable insights and lessons that can help you can learn from their mistakes. Those profiled in Forbes Best Business Mistakes include the likes of Wall Street guru Peter Lynch, larger-than-life media personalities Jim Cramer and Suze Orman, legendary CEO Jack Welch, and newcomer Jason Kilar, CEO of Hulu, who is poised to change the movie and TV industry landscape as we know it forever. Other names include PIMCO's Bill Gross and Mohamed El-Erian and Home Depot Founder Arthur Blank.
* Reveal how top business and financial leaders turned their biggest mistakes into success stories
* Based on exclusive interviews with some of today's most successful professionals, from Jason Kilar of Hulu to Suze Orman
* Contains practical lessons on how you can turn a bad business situation around
As Malcolm Forbes put it, "Failure is success if we learn from it." Forbes Best Business Mistakes shares the missteps of others so you can learn from them, be inspired by them, and succeed where you may not have seen opportunity before.