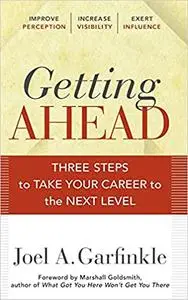 Joel A. Garfinkle, Marshall Goldsmith, "Getting Ahead: Three Steps to Take Your Career to the Next Level"
English | 2011 | ISBN: 0470915870 | 288 pages | MOBI | 1 MB
A leading executive coach pinpoints three vital traits necessary to advance your career
In Getting Ahead, one of the top 50 executive coaches in the United States, Joel Garfinkle reveals his signature model for mastering three skills to take your career to the next level: Perception, Visibility, and Influence.
The PVI-model of professional advancement will teach you to: (1) Actively promote yourself as an asset and valuable person inside the organization, (2) Increase your visibility to gain others' recognition and appreciation for your efforts and (3) Become a person of influence who makes key decisions inside the organization.
Getting Ahead will put you ahead of the competition to become a known, valued, and desired commodity at your company.
For more than two decades, Joel Garfinkle has worked closely with thousands of executives, senior managers, directors, and employees at the world's leading companies, and has authored 300 articles on leadership
Offers detailed guidance on how to increase exposure, boost visibility, enhance perceived value for your organization, and ultimately achieve career advancement
Explains how to get your name circulating among higher levels of management so others know you, see your results, and acknowledge the impact you bring to the company