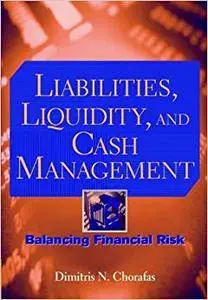 Dimitris N. Chorafas, "Liabilities, Liquidity, and Cash Management: Balancing Financial Risks"
2001 | pages: 336 | ISBN: 0471106305 | PDF | 1,8 mb
"This book provides a very helpful and informative insight into an aspect of finance that has become quite intricate and complex but is nevertheless very fascinating."
—Dr. Henry Kaufman, President, Henry Kaufman & Company, Inc.
Strategies and advice on balancing financial risk for leveraged companies
In today's highly leveraged economy, good liabilities management has become vitally important. Entire sectors of the economy, and some of the biggest financial and industrial companies, face dramatic overexposure problems. But adequate internal liability controls can greatly reduce risk. Featuring case studies in a number of industries and examples of both proper and improper liabilities management in major organizations, Liabilities, Liquidity, and Cash Management shows managers, accountants, investment advisors, and other professionals who deal with liabilities and overexposure how they can implement good internal controls on liability and overexposure. It provides modern tools, critical strategies, and timely advice specifically tailored to the needs of companies facing overexposure and debt risk in a volatile economy.
Topics include:
- Loss of capitalization
- Derivatives
- Risks of globalization
- Sensitivity analysis, gap analysis, stress testing, and value-added solution
- Real-time financial reporting and virtual balance sheets
- Liquidity management
- Money markets, yield curves, and interest rates
- Mismatch risk profiles
- Credit risk
- Risk in the new economy
My Link