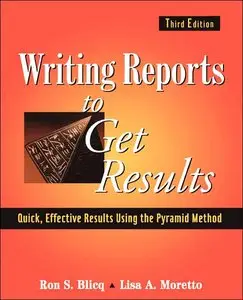 Ron S. Blicq, Lisa A. Moretto "Writing Reports to Get Results: Quick, Effective Results Using the Pyramid Method, 3rd Edition"
Wiley-IEEE Press | 2001-08-23 | ISBN: 0471143421 | 240 pages | PDF | 17 MB
The professional's quick-reference handbook for writing business and technical reports
Professionals in business, government, and technical fields often need help in organizing and writing reports for associates, clients, and managers. This simple tutorial handbook offers expert tips and useful ideas for organizing ideas, structuring reports, and adding spice to technical papers.
Writing Reports to Get Results offers in-depth guidance for writing:
* short, informal reports, such as job progress reports and inspection reports
* semiformal reports, such as laboratory and medium-length investigation and evaluation reports
* formal reports, such as analytical and feasibility studies and major investigations
* technical and business proposals of varying complexity
The authors use a simple pyramid method to help writers organize their information into the most convenient and simplest structure for any type of document-from single-page proposals to full-length presentations. Rounding out this easy, instructional handbook are helpful tips on a number of other topics, such as: constructing reference lists and bibliographies; the use of numbers, abbreviations, and metric symbols; preparing illustrations for insertion into a report; and working collaboratively as a member of a writing team.
Download FREE:
No Mirror(s) Please!