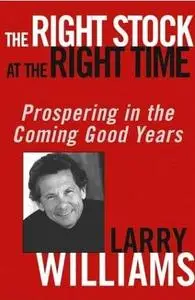 The Right Stock at the Right Time: Prospering in the Coming Good Years by Larry Williams
Publisher: Wiley; 1st edition (May 2, 2003) | ISBN-10: 047143051X | PDF | 1,9 Mb | 256 pages
Larry Williams's The Right Stock at the Right Time: Prospering in the Coming Goods Years is a marriage of investment advice with attempts at formalizing what is, essentially, market speculation.
The first three chapters trace cyclical behavior over the history of the U.S. stock market, behavior that Williams summarizes as the "10-year pattern," the "sure thing seven years," "the four-year phenomenon," the "straight eight factor," and "the October effect." Pulling these all together, he makes predictions about the likely best times in the coming decade for investors to adjust their portfolios.
While these chapters often leave the underpinnings of each cycle unexplained, by chapter four, he increasingly grounds his advice in measurable market activity, including decreases in credit, behavior of the bond market, and cash on hand in mutual funds. Later, Williams turns to more traditional investment advice about which stocks to actually pick. Here, he is committed to tracking price-to-earnings ratio and finding discounted stocks where growth is coupled with declining share price.
The Right Stock at the Right Time is not recommended as a first book for those just entering the world of investments. Williams is s seasoned veteran who has weathered years of up and down markets, and his experience will make interesting reading for those who already share his fascination for timing the market. Ultimately, he sees the investor as akin to a casino: even a slight advantage means that, over the long run, the house makes money. The claim Williams is offering–one that each reader will have to judge for himself–is that his "10-year pattern" and other market trends bring this advantage. –Patrick O'Kelley