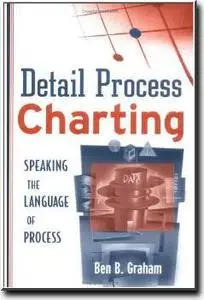 Detail Process Charting: Speaking the Language of Process by Ben B. Graham
Publisher: John Wiley & Sons (August 2, 2004) | ISBN: 0471653942 | PDF | 5,9 Mb | 187 pages
Praise for Detail Process Charting
"A must-read for any competitive organization, Detail Process Charting: Speaking the Language of Process provides a comprehensive, yet clear, explanation of how to utilize one of the most powerful tools available to improve work processes. [Graham] has successfully integrated the history, success stories, and wisdom of those in the field who have applied this time-tested tool."
-Jim Denyes, Training Manager
Naval Occupational Safety and Health, and Environmental Training Center
Author, Work Smarter, Not Harder
"This book will be a valuable resource for all those interested in work simplification and its implementation. Excellent answers to the 'who,' 'what,' 'when,' 'how,' and 'why' of work simplification are provided in an understandable and very useful level of detail. Graham has obviously 'been there, done that.' "
-John A. Roberts III, Adjunct Professor
School of Business Administration, University of Dayton
"The keys to this approach . . . are the involvement of the workers and the simplicity of the charting approach. Even those participants who have never seen a process chart can almost instantly see how the process works, their role in it, and how it can be improved. This level of involvement means continuous buy-in, which significantly improves the chances of success. The emphasis on the document as the key process element and the ability to diagram the document to flow easily, rapidly, and clearly set this approach apart from all the others."
-Fredric D. Heilbronner, Director of Systems Consulting, eForms
Digital Consulting & Software Services, Inc.
"Much has been written about charting and business systems analysis, but I have not seen anything as comprehensive and clear as Ben Graham's book. Writing in simple, easy-to-follow language with plentiful illustrations and practical examples, this book takes the reader through the full spectrum of the charting process from initial analysis to managing charting libraries. This book is a must-have for all process improvement analysts and managers wanting to improve their organizational efficiency."
-Robert Barnett, Managing Director
Robert Barnett and Associates Pty. Ltd.
Download from Rapidshare
or
Download from Depositfiles