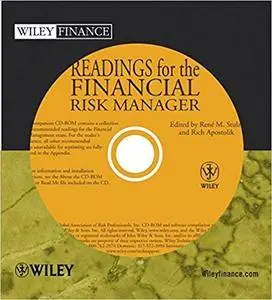 Readings for the Financial Risk Manager by GARP (Global Association of Risk Professionals)
Language: English | 2004 | ISBN: 0471681938 | 1377 pages | PDF | 201 MB
This CD-ROM is the most efficient and economical way to access the core readings from the FRM Exam. Over 700 pages of essential reading material are now at your fingertips, all easily viewed in pdf format. For one-stop convenience, this CD-ROM contains 38 recommended readings. Also included is a complete appendix bibliography, so that you can easily reference any supplementary reading materials not available for reprinting on this CD-ROM. In total, this CD-ROM provides immediate or reference access to all other essential readings recommended and endorsed by the Global Association of Risk Professional's FRM Committee for the FRM Exam. The reading selections by the FRM Committee are representative of the theory and concepts used by practicing risk management professionals. The FRM Committee, which oversees the selection of reading materials for the FRM Exam, suggests these readings for those registered for the FRM Exam and any other risk professional interested in the "mission critical" knowledge essential to their profession. In addition to these readings, GARP also recommends the Financial Risk Manager Handbook, Second Edition, by Philippe Jorion, for those taking the FRM Exam.