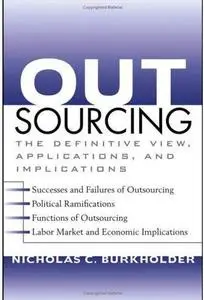 Outsourcing: The Definitive View, Applications, and Implications by Nicholas C. Burkholder
Publisher: Wiley (April 21, 2006) | ISBN: 0471694819 | PDF | 2,2 Mb | 288 pages
Outsourcing is here to stay, whether you think that's a good thing or not. But there is one thing that's unquestionably bad for your business — doing outsourcing badly. A poorly planned initiative will not only fail to return expected economic benefits, but likely also cost your company in terms of its image with customers and employees. The simple fact is that today's businesses need to outsource to survive, but if they outsource poorly they might just die anyway.
With increased competition and rising workforce demands, the question for many businesses isn't whether they should outsource, but what and how to outsource. In Outsourcing, staffing and human resources specialist Nicholas C. Burkholder presents a comprehensive overview of outsourcing's theory, costs, benefits, and implications — political and otherwise.
With complete coverage of outsourcing theory, this book focuses mainly on the practical. With a wealth of facts and a raft of real-world examples, Outsourcing is intended to give business leaders the knowledge and understanding they need to make good, informed decisions on what, when, and how to out-source. Examples of noted outsourcing successes and failures show leaders what works and what doesn't, while up-to-date economic and labor market data prepare leaders for post-outsourcing implications.
In addition, Burkholder looks at many of the enduring myths about outsourcing that the business community commonly holds and debunks them with true case studies and real statistics. Cutting through the haze of confusion and inaccuracy surrounding outsourcing, this book helps business leaders who are concerned about outsourcing make sure they do it right.
Smart decisions on outsourcing can only be made when all the complexities and considerations are properly taken into account. Outsourcing helps businesspeople think rationally and clearly about this complex subject, so they can make smart decisions that represent the best interest of their companies while mitigating the negative impact on the hundreds or even thousands of employees that form the core of every organization.
Download from Ftp2Share