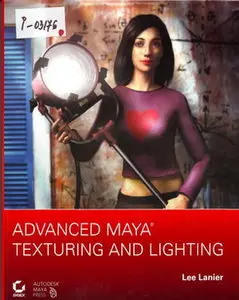 Lee Lanier, "Advanced Maya Texturing and Lighting"
Publisher: Sybex | 2006 | 370 Pages | ISBN: 047179404X | PDF | 22 MB
* Written by an industry veteran who has used Maya in such films as Mortal Kombat and Shrek, this full-color book offers advanced, professional-level techniques for texturing and lighting for rendering 3D models in Maya
* Begins with an introduction of various lighting concepts, then offers readers detailed explanations of Maya's numerous hidden features so they can achieve amazing results quickly
* Features an unparalleled exploration of Maya's Hypershade, where animators create connections between shaders, texture maps, lights, cameras, and geometry
* Provides a thorough look at rendering in Maya, including everything from batch rendering to global illumination workflow and HDRI techniques
The art of texturing and lighting is a crucial aspect of any movie, game, or other animation project. Now you can learn the secrets of professional animators, mine powerful and often hidden features in Maya, and achieve amazing results with the detailed information you'll find in Advanced Maya Texturing and Lighting.
Written by an industry veteran whose texturing and lighting has been featured in such films as Mortal Kombat, Antz, Shrek, and many others, this in-depth book focuses on advanced techniques used in real-world production environments. You'll find out how to add complexity to your work with custom shaders, high-level texture mapping, a full understanding of lighting concepts, and an unparalleled exploration of Maya's Hypershade window. The book takes a detailed look at rendering in Maya, including everything from batch rendering to global illumination workflow and HDRI techniques. In gorgeous full color and full of tips, techniques, and workflow ideas straight from the studio, this valuable guide doesn't just teach, it shows you how to achieve the same dazzling and rapid results as the pros.
The enclosed CD features exclusive content, including two bonus chapters, Maya scene files, custom shading networks, textures, the Maya Personal Learning Edition, and files for the practical tutorials, which were designed from an industry perspective and refined in the classroom.
* Understand lighting theory, history, application, and technique.
* Painlessly raytrace with Maya Software and mental ray.
* Get the most out of Maya shadows and post-process effects.
* Master Global Illumination, Final Gather, mental ray shaders, HDRI, and normal mapping.
Please appreciate my work, download from my references!!!