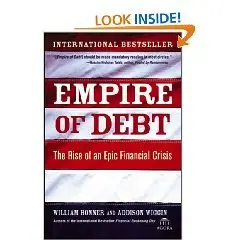 Empire of Debt: The Rise of an Epic Financial Crisis
Publisher: Wiley | ISBN: 047198048X | edition 2006 | PDF | 379 pages | 8,58 mb
General Motors will never be able to compete unless it ditches its crushing health care costs. Why does it not just cut the costs? It seems to lack either the nerve or the right, but the journalist proposed a solution: Nationalize health care! Meanwhile, CEO pay has soared to the point where the average chief executive in 2000 earned compensation equal to 500 times the average hourly wage. Stockholders, whose money was being squandered, barely said a word. They were still under the illusion that the companies were working for them. They had not noticed that the whole capitalist institution had been trussed up with so many chains, wires, red tape, and complications, it no longer functioned like the freewheeling, moneymaking corporations of the nineteenth century. Meanwhile, corporations in China—a communist country—had their hands and feet free to eat our lunches and kick our derrieres.




>>:: NO PASSWORD ::<<





uploading





qubecash.com





depositfiles





mirror





>>::..::!!!NO MIRRORS!!!::..::<<



Not all books on AvaxHome appear on the homepage. In order not to miss many of them follow



ebooks section

(see top of each page on AH)

and visit

-<My Blog>-

too :-)