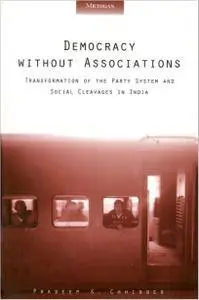 Democracy without Associations: Transformation of the Party System and Social Cleavages in India (Interests, Identities, and Institutions in Comparative Politics) by Pradeep K. Chhibber
English | February 3, 1999 | ISBN: 0472109626, 0472088270 | EPUB + PDF | 304 pages | 0.9/19.9 MB
India's party system has undergone a profound transformation over the last decade. The Congress Party, a catch-all party that brought independence in 1947 and governed India for much of the period since then, no longer dominates the electoral scene. Political parties which draw support from particular caste and religious groups are now more powerful than ever before. Democracy Without Associations explains why religious and caste-based political parties come to dominate the electoral landscape in 1990s India and why catch-all parties have declined. Arguing that political parties and state policy can make some social divisions more salient than others and also determine how these divisions affect the political system, the author offers an explanation for the relationship between electoral competition and the politicization of social differences in India. He notes that the relationship between social cleavages and the party system is not axiomatic and that political parties can influence the links they have to social cleavages. The argument developed for India is also used to account for emergence of class-based parties in Spain and the electoral success of a religious party in Algeria.
Democracy Without Associations will interest scholars and students of Indian politics, and party politics, as well as those interested in the impact of social divisions on the political system.