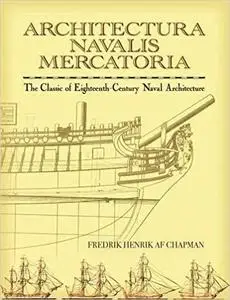 Architectura Navalis Mercatoria: The Classic of Eighteenth-Century Naval Architecture by Fredrik Henrik af Chapman
English | ISBN: 0486451550 | 160 pages | EPUB | November 17, 2006 | 23 Mb
First published in 1768, this remarkable collection of sophisticated line drawings offers a fascinating look at the maritime world of the eighteenth century, documenting merchant and naval ships from various countries. Seventy detailed illustrations chart vessel dimensions, crew size, storage capabilities, and manner of rigging for packet ships, pleasure boats, privateers, frigates, and other ships.
Fredrik Henrik af Chapman (1721–1808) was a naval architect, a vice-admiral in the Swedish navy, and the author of several books on shipbuilding. This volume constitutes an indispensable treatise for model builders, naval historians, and maritime enthusiasts, as well as anyone who appreciates the art of drafting.