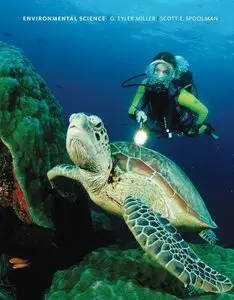 G. Tyler Miller, Scott Spoolman, "Environmental Science, 13th Edition"
IB,…s C,.e | 2010 | ISBN : 0495560162 | 552 pages | PDF | 43 MB
Environmental Science will inspire and equip you to make a difference for the world. Featuring sustainability as their central theme, authors Tyler Miller and Scott Spoolman emphasize natural capital, natural capital degradation, solutions, trade-offs, and the importance of individuals. As a result, you will learn how nature works, how you interact with it, and how people have sustained–and can continue to sustain–our relationship with the earth by applying nature's lessons to economies and individual lifestyles.
Download