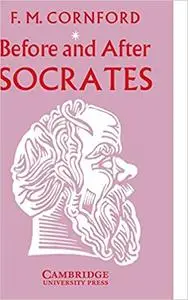 F. M. Cornford, "Before and After Socrates"
English | 1932 | ISBN: 0521091136 | 124 pages | PDF (scan) | 5.8 MB
In this book, F.M. Cornford explains why the life and work of Socrates stand out as marking a turning-point in the history of thought. He shows how Socrates revolutionized the concept of philosophy, converting it from the study of Nature to the study of the human soul, the meaning of right and wrong, and the ends for which we ought to live. This is, in fact, the story of the whole creative period of Greek philosophy - the Ionian nature of science before Socrates, Socrates himself, and his chief followers, Plato and his pupil Aristotle. It tells of the different contributions each made, and shows how within three centuries the Greek tradition grew to maturity and the fullness of intellectual power.