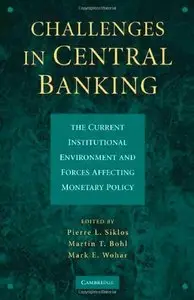 Challenges in Central Banking: The Current Institutional Environment and Forces Affecting Monetary Policy by Pierre L. Siklos, Martin T. Bohl and Mark E. Wohar
English | 2010 | ISBN: 0521199298, 0511770391 | 424 pages | PDF | 2 MB
Changes in the field of central banking over the past two decades have been nothing short of dramatic. Moreover, they have spanned the globe. They include the importance of central bank autonomy, the desirability of low and stable inflation, and the vital role played by how central banks communicate their views and intentions to the markets and the public more generally.
There remains considerable diversity nevertheless in the institutional framework affecting central banks, the manner in which the stance of monetary policy is determined and assessed, and the forces that dictate the conduct of monetary policy more generally.
The global financial crisis, which began in the United States in 2007, only serves to highlight further the importance of central bank policies. The aim of this volume is to take stock of where we are in the realm of the practice of central banking and considers some of the implications arising from the ongoing crisis.