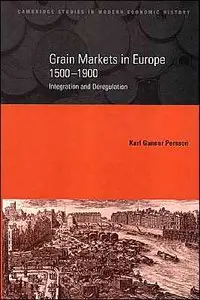 Karl Gunnar Persson "Grain Markets in Europe, 1500-1900: Integration and Deregulation"
Cambridge University Press | 2000-01-28 | ISBN: 0521650968 | 193 pages | PDF | 1,2 MB
Karl Persson surveys a broad sweep of economic history, examining one of the most crucial markets–grain–in order to demonstrate more general points. Grain Markets in Europe traces the markets' early regulation, their poor performance and the frequent market failures. Price volatility caused by harvest shocks was of major concern for central and local government because of the unrest it caused. Persson uses insights from development economics, explores contemporary economic thought on the advantages of free trade, and measures the extent of market integration using the latest econometric methods.
Download FREE:
No Mirror(s) Please!