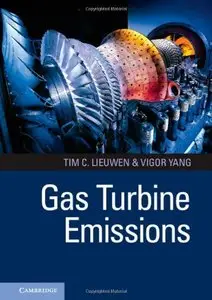 Tim C. Lieuwen, "Gas Turbine Emissions"
English | ISBN: 052176405X | 2013 | 382 pages | PDF | 9 MB
The development of clean, sustainable energy systems is one of the pre-eminent issues of our time. Most projections indicate that combustion-based energy conversion systems will continue to be the predominant approach for the majority of our energy usage, and gas turbines will continue to be important combustion-based energy conversion devices for many decades to come, used for aircraft propulsion, ground-based power generation, and mechanical-drive applications. This book compiles the key scientific and technological knowledge associated with gas turbine emissions into a single authoritative source. The book has three sections: the first section reviews major issues with gas turbine combustion, including design approaches and constraints, within the context of emissions. The second section addresses fundamental issues associated with pollutant formation, modeling, and prediction. The third section features case studies from manufacturers and technology developers, emphasizing the system-level and practical issues that must be addressed in developing different types of gas turbines that emit pollutants at acceptable levels.