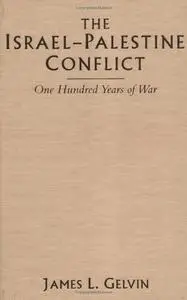 James L. Gelvin, "The Israel-Palestine Conflict: One Hundred Years of War"
English | 2005 | ISBN: 0521852897 | 312 pages | PDF | 18.33 MB
James L. Gelvin's new account of the century-old conflict between Israelis and Palestinians presents a compelling, accessible and up-to-the-moment introduction for students and general readers. Placing events in the disputed area within the framework of global history, the book skillfully interweaves biographical sketches, eyewitness accounts, poetry, fiction and official documentation into its narrative, including photographs, maps and an abundance of supplementary material as well. Beginning in the mid-nineteenth century in Palestine, it traces the evolution and interactions of the two communities from their first encounters up to the present conflict.