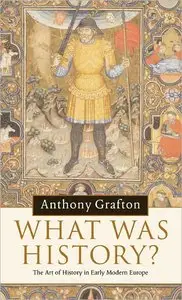 Anthony Grafton, "What was History?: The Art of History in Early Modern Europe"
English | 2007 | ISBN: 0521874351, 052169714X | 330 pages | PDF | 12,8 MB
From the late-fifteenth century onwards, scholars across Europe began to write books about how to read and evaluate histories. These pioneering works - which often take surprisingly modern-sounding positions - grew from complex early modern debates about law, religion, and classical scholarship.
In this book, based on the Trevelyan Lectures of 2005, Anthony Grafton explains why so many of these works were written, why they attained so much insight - and why, in the centuries that followed, most scholars gradually forgot that they had existed.
Elegant and accessible, What Was History? is a deliberate evocation of E. H. Carr's celebrated and icononclastic Trevelyan Lectures on What Is History?, and will appeal to a broad readership of students, scholars and historical enthusiasts. Anthony Grafton is one of the most celebrated historians writing in English today, and What Was History? is a powerful and imaginative exploration of some central themes in the history of European ideas.