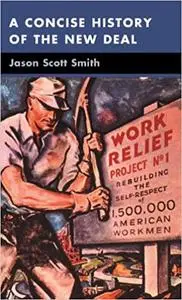 A Concise History of the New Deal
English | 2014 | ISBN: 0521877210 | 228 Pages | PDF | 3 MB
During the 1930s, Franklin D. Roosevelt's New Deal carried out a program of dramatic reform to counter the unprecedented failures of the market economy exposed by the Great Depression. Contrary to the views of today's conservative critics, this book argues that New Dealers were not "anticapitalist" in the ways in which they approached the problems confronting society. Rather, they were reformers who were deeply interested in fixing the problems of capitalism, if at times unsure of the best tools to use for the job. In undertaking their reforms, the New Dealers profoundly changed the United States in ways that still resonate today. Lively and engaging, this narrative history focuses on the impact of political and economic change on social and cultural relations.