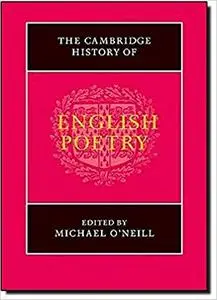 Michael O'Neill, "The Cambridge History of English Poetry"
English | ISBN: 0521883067 | 2010 | 1115 pages | PDF | 6 MB
Poetry written in English is uniquely powerful and suggestive in its capacity to surprise, unsettle, shock, console, and move. The Cambridge History of English Poetry offers sparklingly fresh and dynamic readings of an extraordinary range of poets and poems from Beowulf to Alice Oswald. An international team of experts explores how poets in England, Scotland, Wales and Ireland use language and to what effect, examining questions of form, tone, and voice; they comment, too, on how formal choices are inflected by the poet's time and place. The Cambridge History of English Poetry is the most comprehensive and authoritative history of the field from early medieval times to the present. It traces patterns of continuity, transformation, transition, and development. Covering a remarkable array of poets and poems, and featuring an extensive bibliography, the scope and depth of this major work of reference make it required reading for anyone interested in poetry.