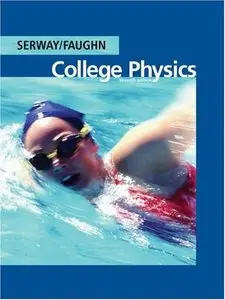 College Physics (with PhysicsNow), 7 Edition by Raymond A. Serway, Jerry S. Faughn, Chris Vuille, Charles A. Bennett
English | 2005 | ISBN: 0534997236 | 1104 pages | PDF | 49 MB
COLLEGE PHYSICS provides students with a clear and logical presentation of the basic concepts and principles of physics. The authors include a broad range of contemporary applications to motivate students understanding of how physics works in the real world. In addition, new pedagogy, reflecting the findings of physics education research, has been added to help students improve their problem solving skills and conceptual understanding. The text's flexible, accessible, and focused presentation, coupled with extraordinary text/media integration through PhysicsNow, gives instructors and students the tools they need to succeed.
This text, which covers the standard topics in classical physics and 20th century physics, is divided into six parts. Newtonian mechanics and the physics of fluids (Part I); heat and thermodynamics (Part II); wave motion and sound (Part III); electricity and magnetism (Part IV); properties of light and the field of geometric and wave optics (Part V); and an introduction to special relativity, quantum physics, and atomic and nuclear physics (Part VI).
My nickname -
interes