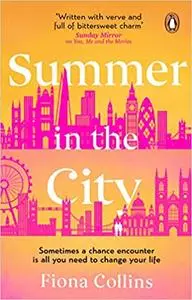 Fiona Collins, "Summer in the City: A beautiful and heart-warming story – the perfect summer read"
English | 2021 | ISBN: 0552176370 | 400 pages | EPUB | 0.6 MB
'Collins perfectly balances the light and shade of life, resulting in an uplifting and heart-warming book that proves to be the perfect summer read' CULTUREFLY, JULY READS
A beautiful and heart-wrenching story set over one hot summer in London, about a father and daughter who help one another to step out into the world again, perfect for fans of Jojo Moyes and Lucy Diamond.
Prue is not someone you would notice willingly. She likes to keep herself to herself and fade into the background. If it weren't for the birthmark on her left cheek, she might actually succeed at becoming invisible.
She spends all of her time with her blind father, Vince. Scarred by a difficult past, they sit together in silence and ignore the vibrant city just on their doorstep. That is, until something forces them both to go outside and see what they have been missing. For Vince, that means discovering how to see the world without his sight. For Prue, that means finding the courage to finally love and be loved in return.
About family, second chances and finding the courage to face your fears, this is a moving story that will stay with you long after you have finished the last page.
'Un utterly lovely book' DEBBIE JOHNSON, author of THE MOMENT I MET YOU
'The perfect summer novel, we defy you not to be captivated and will be urging them on to live the lives they deserve' BELFAST TELEGRAPH
'A story about family, friendship and facing your fears head on' COSMOPOLITAN, BEST BOOKS TO READ THIS SUMMER
––––––––––––––––––––-
**Readers are loving Summer in the City**
'I'll be thinking about these characters for a very long time to come' 5 star review
'An emotional tale about discovery, healing and living a life, once lost, to its very best' 5 star review
'An uplifting, funny and inspiring read about getting back out into the world again' 5 star review
'Captivates a wonderful relationship between a father and daughter' 5 star review
'A gorgeous story about family, friendship and pushing yourself to face your greatest fears' 5 star review