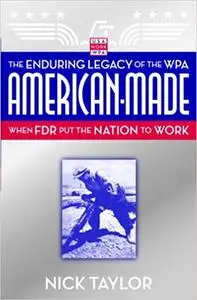 Nick Taylor, "American-Made: The Enduring Legacy of the WPA: When FDR Put the Nation to Work"
English | 2009 | ISBN: 0553381326, 0553802356 | EPUB | pages: 630 | 0.6 mb
Seventy-five years after Franklin D. Roosevelt's New Deal, here for the first time is the remarkable story of one of its enduring cornerstones, the Works Progress Administration (WPA): its passionate believers, its furious critics, and its amazing accomplishments.
The WPA is American history that could not be more current, from providing economic stimulus to renewing a broken infrastructure. Introduced in 1935 at the height of the Great Depression, when unemployment and desperation ruled the land, this controversial nationwide jobs program would forever change the physical landscape and social policies of the United States. The WPA lasted eight years, spent $11 billion, employed 8½ million men and women, and gave the country not only a renewed spirit but a fresh face. Now this fascinating and informative book chronicles the WPA from its tumultuous beginnings to its lasting presence, and gives us cues for future action.