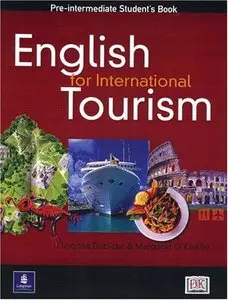 Iwonna Dubicka, Margaret O'Keeffe, "English for International Tourism: Low-Intermediate (Course Book)"
Pearson ESL | 2002 | ISBN: 0582479886 | 144 pages | PDF | 10,5 MB
English for International Tourism is the first multi-level series designed specifically for the hotel and tourism industry! This course focuses on the grammar, vocabulary, and skills needed for professional communication in this fast-paced industry.
English for International Tourism is a language course designed to cater for learners studying for vocational qualifications in the travel trade and for working professionals undertaking in-service language training. The course deals with the language of tourism from an insider's occupational perspective rather than of the individual traveller. However, neither teacher nor student needs first hand knowledge of the industry because, it is not technical or over-specialised in nature.