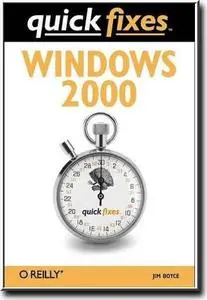 Windows 2000: Quick Fixes by Jim Boyce
Publisher: O'Reilly Media; 1 edition (January 1, 2001) | ISBN: 0596000170 | PDF | 8,2 Mb | 304 pages
For those who are faced with switching over to the powerful but often confusing Windows 2000, Windows 2000 Quick Fixes offers something completely new: not just solutions, but a fast, easy way to find them. Designed with the power user in mind, this book is laid out for optimal accessibility; it defines problems clearly and follows up with concise, yet detailed, solutions. Windows 2000 Quick Fixes is an essential reference for both the novice and the well-seasoned Microsoft OS user. For instance, newcomers to Windows 2000 who have children using their computers can quickly learn how to protect some areas without walling off the entire system. Old hands at Windows will learn quick and easy new ways to recover data or what to do when the administrator's password's been forgotten. Unlike many of the oversized and poorly organized books on the market, Windows 2000 Quick Fixes doesn't waste time with endless tutorials, fluff, and useless background material. And while the book is designed for easy access, the material is by no means basic. It provides extensive coverage of problems for both the Windows 2000 Professional and Windows 2000 Server editions, and takes power users from installation issues, through complex networking configuration problems, to important backup and security concerns. Some of the topics covered include:
— Setting up a dual-boot system — Recovering data — Resolving hardware configuration conflicts — Restoring the Registry from a back up — Making a printer available through the Internet — Using automatic address assignment without DHCP — Configuring Internet Connection Sharing — Hosting a web site With its clear, well-organized fixes to common problems, Windows 2000 Quick Fixes is the book to reach for when the pressure is on and there's no time to waste hunting for buried solutions.
Download from Ftp2Share