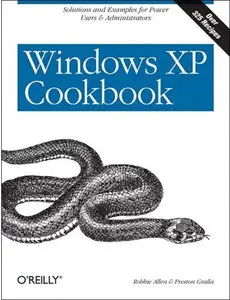 Robbie Allen, " Windows XP Cookbook"
ISBN: 0596007256 | edition 2005 | CHM | 678 pages | 4 mb
Each year, Windows XP is pre-installed on 30 million PCs sold in the U.S.–and 90 million worldwide–making it the world's most popular operating system, and proving to frustrated users everywhere that preponderance does not equate to ease of use. There are literally thousands of programs, tools, commands, screens, scripts, buttons, tabs, applets, menus, and settings contained within Windows XP. And it has only been in the last couple of years that Microsoft's documentation has actually been more of a help than a hindrance. But it still isn't enough.
My Links