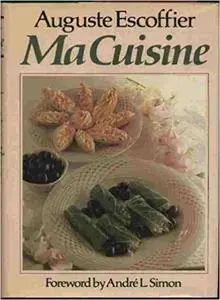 Auguste Escoffier, Andre L. Simon, "Ma Cuisine"
1934 | pages: 703 | ISBN: 0600601048 | PDF | 9,1 mb
He was the "King of Chefs and Chef of Kings," doyen of haute cuisine, one of the founders of London's famed Savoy Hotel, and probably the greatest cook of all time: Auguste Escoffier occupied an unchallenged position in the realm of gastronomy. This collection of incomparable recipes–classic soups, sauces, fish and shellfish, meat, poultry, game, sandwiches, salads, vegetables, sweets, jams, and beverages–reflects a lifetime of skill and experience. Among the sublime tastes elegantly presented here: a Chicken Velouté Sauce with Cream; Sole Poached in White Wine, Butter, and Tomatoes; Hot Lobster Mousse; Fillet of Beef with Truffles and Madeira; Potatoes Nana; Chestnut Croquettes; and Meringue with Custard Cream. Introduction by the distinguished founder of the International Wine & Food Society.
My Link