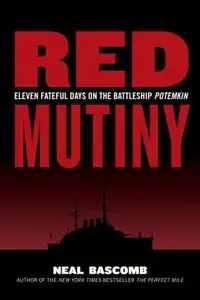 Neal Bascomb, "Red Mutiny: Eleven Fateful Days on the Battleship Potemkin"
English | ISBN: 0618592067 | 2007 | EPUB | 400 pages | 1,8 MB
In 1905 more than seven hundred Russian sailors mutinied against their officers aboard the battleship Potemkin, one of the most powerful battleships in the world. Led by the charismatic firebrand Matyushenko, they risked their lives to take control of their ship and fly the red flag of revolution. What followed was a violent port-to-port chase that spanned eleven harrowing days and came to symbolize the Russian Revolution itself.
This pulse-pounding story alternates between the opulent court of Nicholas II and the drama on the high seas. Neal Bascomb combines extensive research and fresh information from Soviet archives to tell the true story of the deadliest naval mutiny in history. Red Mutiny is a terrific adventure filled with epic naval battles, heroic sacrifices, treachery, bloodlust, and the rallying cries of freedom.