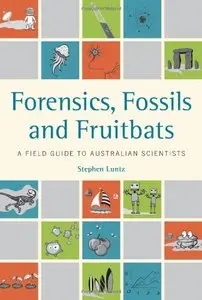 Stephen Luntz, "Forensics, Fossils and Fruitbats: A Field Guide to Australian Scientists"
ISBN: 0643097457 | 2011 | PDF | 222 pages | 4.3 MB
Forensics, Fossils and Fruitbats is a fascinating collection of more than 70 profiles of Australian scientists from 15 fields of physical, biological and medical science. These scientists have been selected because their research is inspiring, intriguing or simply quirky, or because they have taken an unusual or interesting path to the work they do.
Profiles include:
• A forensic archaeologist whose work has taken her from Antarctica to Pompeii
• A palaeontologist who revolutionized understanding of Australia's dinosaurs
• A computer scientist teaching computers to understand jokes
• The engineer behind technologies that could bring clear sight to a billion people and clean energy to billions more.
For anyone considering a career in science, Forensics, Fossils and Fruitbats provides insight into the challenges and triumphs of being a scientist. For everyone else, it is a rare peek into the reality of how science is done.
No Mirrors Please!!!

Please inform me if link is dead!