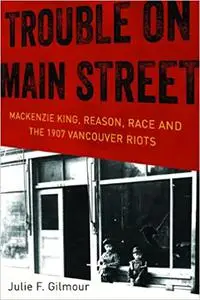 Julie F Gilmour, "The History of Canada Series: Trouble on Main Street: Mackenzie King Reason Race And The 1907 Vancouver Riots"
English | ISBN: 0670065129 | 2014 | 256 pages | EPUB | 3 MB
The weather September 7, 1907 was hot and tempers were short. British Columbians had always been sensitive to Asian immigration and had become increasingly fearful over the summer. More Japanese immigrants were coming to B.C. and rumours smouldered of massive labour contracts for the projected Grand Trunk Pacific Railway.
Like the citizens of Seattle and San Francisco, the residents of Vancouver had established a bipartisan Asiatic Exclusion League aimed at Japanese, Chinese, and South Asian immigrants in order to protect "White Canada." The league had widespread support among trade union organizations and churches, and so a parade during the Labour Day weekend was scheduled. The result was a violent riot that drew the world's attention to Vancouver, to Canadian immigration policy, and to Britain's 1902 alliance with the Japanese.
Read more